So this series of watercolor classes are moving along beautifully and everyone seems to be enjoying it. Tomorrow was suppose to be the last class, but this cold I have been fighting has turned into a cough that won't go away. So I have had to postpone tomorrow's class because of it. I always hate doing that because some may not be free on the new date.
We have continued to try new ideas in color and I did a painting at home (I always try these ideas at home because I want to make sure my ideas will help me teach what I want to convey to the students).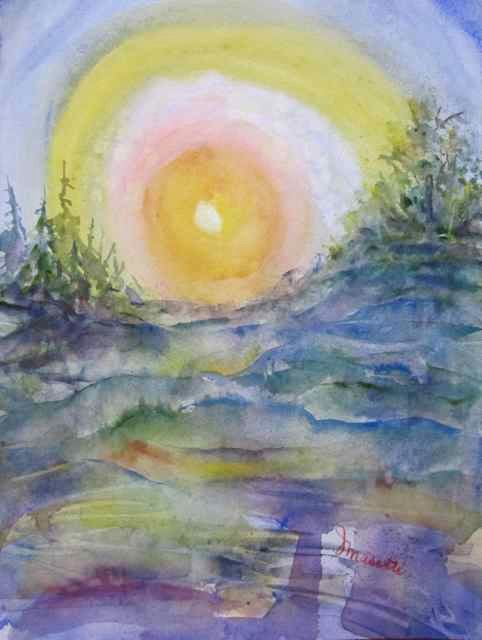 Then I did one in class as a demo. One of the students brought in Dr. Martin's watercolor paints which are liquid, instead of a tube. I had never used them before, although I have used his colored inks. I decided to use his paints to see how we liked them. They are very easy to work with and because they are very concentrated, the color just jumps off the page. I liked them so much that I think I will order them for myself.
Everyone did their own renditions of a sun-fulled paintings and I will take pictures of them next week when we meet again.

Late to post...but it's been a busy week. So I'll just say the second class of the "Watercolor with Jean" series has gone well. I gave a demo showing different kinds of textures and how to use their brushes. Students then did their own background mixing color and textures. I then brought out a bag of leaves I collected from the garden and we used them both as stamps and to trace. While everyone was having fun with that, I was able to go around and show them how to use their brushes, paints and create their own painting.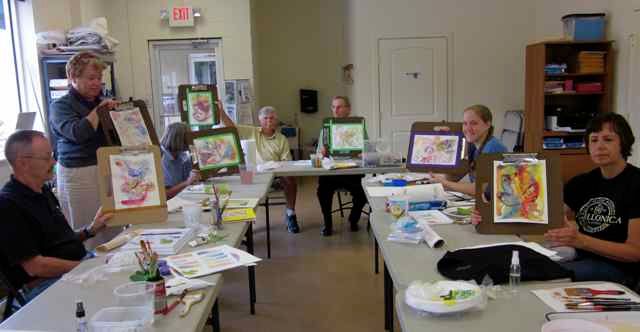 I thought this painting was especially good, as the student was a beginner and really went with her own sense of color and style. Because her background was so strong, I suggest she blend the color into the leave instead of behind it.
This was the finished demo painting I started in class. I think I like my student's painting better.