I have decided to make the seasons of the year to be the themes of this series of classes.
The first season we worked on last week was "Winter". At the beginning of the class I gave a demo of painting of a winter scene. There were no photos of this scene and it really was produced from my memories of snow, winter and how it made me feel.
The reason for this is that we tend to try and paint like a camera. My point being that if you want something exact as nature has made it, then do photograph it, but if you experiment with our watercolor paints mixed with water and watercolor paper you can create your own ideas of what winter is to you, the artist. Hopefully the viewer will enjoy those impressions as well as the artist did in painting it.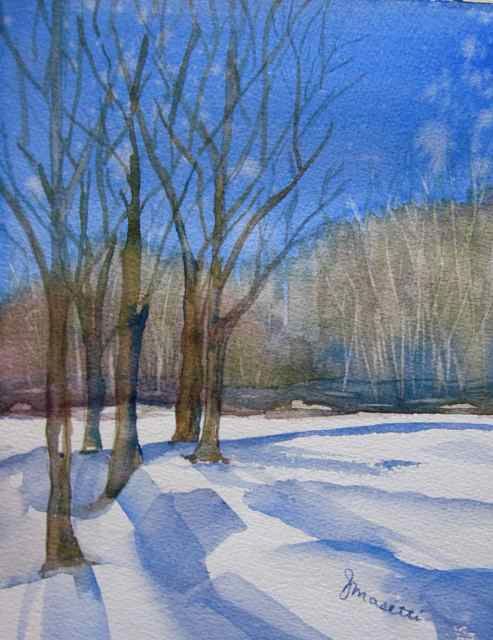 Tomorrow we will work on the season of spring. By painting spring hopefully it will bring the season to me sooner.

The season has changed again and colors have turned from the bright oranges, golds and reds of fall to the darker more somber colors of winter. It seems every time I look out my windows I see something different. It's not only the seasons, but the times of the day. Winter has made the days shorter and the angle of the sun different as well. I am so entranced with the light and colors that I have to try to copy nature again and again. But she is so much better at it then me. Still I can't help trying.
Little did I know that within a week, this would all be covered in a white blanket of snow. I just can't keep up with Mother Nature.
Monday we hang a new show at the Gallery and I will show this new painting. I also have three other winter paintings at the Abbotts Grill Restaurant for there new winter show. In a little over a week I will start teaching a six week watercolor class at the Gallery as well. Looks like a busy start to 2011. Happy New Year!